Egypt, Ethiopia, and Sudan, Nile River Basin

The Nile River is the largest in the world at 6,650 kilometers long. It runs through Egypt, Burundi, Tanzania, Rwanda, the Democratic Republic of the Congo, Kenya, Uganda, Sudan, Ethiopia, and South Sudan. The Nile River riparian states make up the Nile River Basin Initiative (NBI), an international partnership between Nile River countries that aims to increase cooperation, share the river's socioeconomic benefits, and promote regional peace. The Nile River states' population is estimated to be 400 million, with over half of these residents (250 million) relying on the Nile for daily water supply. The UN estimates that the Nile's population will double by 2050, significantly increasing pressure on Nile water flow to sustain a nearly billion-strong population. Currently, 10% (4 million people) of the Nile region's population faces water scarcity. However, it is estimated that by 2040, 35% (80 million people) will be water-scarce due to increasing population and climate change-related events such as increased Nile River flow variability and severe weather events.
Treaties regarding Nile River water rights date back to the colonial period and continue to be referenced today in legal matters. In the colonial period of the early 20th century, historically significant treaties were signed between colonial powers and Nile River riparian states, including the Treaty Between Great Britain and Ethiopia, the Tripartite Treaty, and the Agreement between Egypt and Anglo-Egyptian Sudan. The treaties significantly undermined Ethiopia's rights to the Nile River, despite the Blue Nile running through Ethiopia's sovereign land, and favored Egypt and Sudan's rights to the Nile's water.
Both Egypt and Sudan are Lower Nile Basin countries and receive relatively low rainfall levels compared to Upper Nile Basin states, making them highly dependent on the Nile River for water supply. Moreover, according to the UN, Egypt has an annual water deficit of around seven billion cubic meters and is projected to completely water-scarce by 2025. Egypt's water scarcity resulted in protests in 2007, known as the "Revolution of the Thirsty," after residents of the Nile Delta reported putrid water in their limited water supply. As such, both countries continue to reference these colonial-era treaties in a bid to remain water-secure despite environmental pressures. However, Ethiopia refuses to recognize the treaty's validity due to its colonial context and unadulterated bias against Ethiopian water rights.
Disputes between Ethiopia, Egypt, and Sudan over Nile River water rights culminated into outright tensions in 1978 following Ethiopia's proposal of dam construction on the Blue Nile. Ethiopia's proposal was met with significant Egyptian backlash that ultimately led to the failure of the project. However, tensions continue today with the construction of the Ethiopian Grand Renaissance Dam. 
In 2010, Ethiopia announced its intention to build the largest and most expensive hydroelectric dam in Africa. The proposal was immediately met with Egyptian and Sudanese backlash, with Egypt calling for African Union (AU) and United Nations (UN) intervention on the matter and then Egyptian Minister of Water and Environmental Resources, Mohamed Nasr Eldin Allam, forming an agreement with the Sudanese government to preserve "the historical rights of both countries to the Nile's water." The deal responded to the Grand Renaissance dam proposal and bound Sudan and Egypt together in opposition against the dam's construction.
Although Sudan declared neutrality in the dispute in 2014, negotiations between all three states continue today to no avail. Currently, the latest round of negotiations reached a stalemate in August of 2020 with the Sudanese Water Resources and Irrigation Minister, stating that "the continuation of negotiations in this current form will not lead to achieving practical results." It is expected for a new round of negotiations to begin shortly, although there is little optimism that another round of talks will resolve this nearly decade long dispute.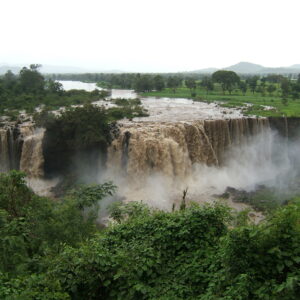 400 million

People in the region
Current negotiations:


Stalemate
250 million

People reliant on the Nile
Where: The Nile flows from south of the Equator northward through Northeastern Africa and drains into the Mediterranean Sea 
Nile River Countries: Egypt, Burundi, Tanzania, Rwanda, the Democratic Republic of the Congo, Kenya, Uganda, Sudan, Ethiopia, and South Sudan.
Nile River Length: 6,650 kilometers
People Reliant on the Nile River for Daily Water Supply: 250 million
Nile River Region Population Predictions: According to UN estimates, the population of the Nile River region is expected to double by 2050
Nile River Annual Flow: 80 cubic kilometers per year 
Nile River Water Flow Prediction: Research predicts that climate change will cause the Nile's annual flow to increase in variability by 50% over the next 15 years, meaning that flooding and droughts will increase in occurrence and severity  
Principal Streams of Nile River: The Blue Nile and Atabara (flows through Ethiopian highlands), and the White Nile (flows into lakes Victoria and Albert) 
Current Status of Ethiopia, Egypt, and Sudan Negotiations: Stalemate as of August 28, 2020
Water Scarcity in Nile Region: 10% of the Nile region's population face water scarcity 
Water Scarcity Projections: By 2040, 35% of the Nile region's population (80 million people) will face water scarcity
Nile River Basin initiative (NBI)
The Nile River Basin Initiative (NBI) is an international partnership among Nile River riparian states. The initiative was formed in 1999 and includes Egypt, Ethiopia, the Democratic Republic of Congo, Kenya, Rwanda, Sudan, Tanzania, and Uganda. Eritrea, the tenth Nile riparian state, currently acts as an observer and has expressed interest in joining the NBI. The initiative aims to increase cooperation, share the river's socioeconomic benefits, and promote regional peace between Nile River riparian states. In November 2008, NBI member states signed the Khartoum Declaration, which was a non-binding agreement that declared the support for the harmonization of environmental management, data exchange, ecological impact assessment, and a coordinating role in climate change issues to establish a "cooperative framework agreement" to replace earlier bilateral treaties. In 2007, seven of the NBI's member states signed the declaration, excluding Egypt and Sudan, who requested that member states issue a "presidential declaration to launch the River Nile Basin Commission as negotiations [on the CFA] continue." Egypt's rejection of the agreement primarily comes from recognizing the prior colonial-era agreements that granted the state significant rights to the Nile. As water rights conflicts continue between Egypt, Sudan, and Ethiopia, it is expected for the NBI to have a mediating role in disputes and expand Nile River water agreements in the future.
United Kingdom (UK)
France
United Nations (UN)
African Union (AU)
Egypt
Sudan
Ethiopia
United States (US)
Local Nile River Protestors
Classification: International Water Rights Dispute
Egypt, Ethiopia, and Sudan are in dispute over water rights to the River Nile. 
Arctic Circle Territorial Disputes
Northern Africa resource disputes
Disputed indigenous peoples' territorial claims
Latest posts by The Organization for World Peace
(see all)