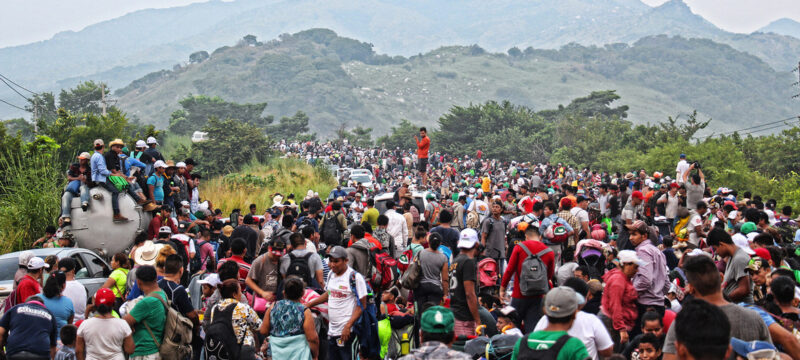 Central America

Since the 1960s, Central America has experienced  continuous waves of emigration as a result of multiple civil  wars, extreme violence at the hands of organized crime  groups, and environmental disasters, as well as an  atmosphere of general civil, political, and economic  instability created by both the governments of the region  and foreign intervention. A considerable part of the U.S  migration comes from The Northern Triangle of Central  America (Honduras, Guatemala, El Salvador) where citizens  are left with no other choice but to leave their home countries. Because of increasingly hostile attitudes toward  Central Americans in Mexico and the United States, migrants  and asylum seekers are often forced to live in inhumane  conditions only to be deported back to their home countries.  
Many cannot travel elsewhere, as the journey southward to  countries like Brazil, Chile, and Argentina is often long and  expensive. In addition, these countries, as well as closer  ones like Colombia and Peru, are already struggling to  accommodate refugees from Venezuela. Though the number  of attempted border crossings has significantly decreased  under the Covid-19 pandemic due to border shutdowns  throughout the region, numbers have begun to rise again. Indeed, a historical record has been reached when 1.7  million Migrants were recorded trying to illegally cross the  U.S border in 2021, to escape the poverty, violence and  corruption in their home countries. However, hopes for  better living conditions in the Northern triangle of Central  America lays in U.S VP Billion private investment plan to  stem migration by addressing its root causes.
257,000

Yearly Emigrants (2019)
59.3%

Poverty Rate (Guatemala)
37.6 (per 100,000)

Homicide Rate (Honduras)
Where: El Salvador, Guatemala, Honduras, Nicaragua, Mexico, the United States
Population: 6.5 million (El Salvador), 17.4 million (Guatemala), 9.3 million (Honduras), 6.2 million (Nicaragua) (July 2021 est.)
Net Migration Rate (per 1,000 people): -5.57 (El Salvador), -1.69 (Guatemala), -1.35 (Honduras), -2.27 (Nicaragua) (2021 est.)
Poverty Rate: 29.2% (El Salvador – 2017), 59.3% (Guatemala – 2014), 48.3% (Honduras – 2018), 24.9% (Nicaragua – 2016)
Homicide Rate (per 100,000 people): 19.7 (El Salvador), 15.3 (Guatemala), 37.6 (Honduras), 4.4 (Nicaragua) (2020)
Northern Triangle in Central  America: The number of migrants has more than tripled from 1990. Nearly 684,000 citizens were  encountered at the U.S.  Southwest border, including 309,000 Hondurans (2021), 279,000 Guatemalans (2021), and 96,000  Salvadorans (2021). 397,000 were expelled under Title 42 of the U.S. Code (2021)
The United States
Since the creation of the Department of Homeland Security in 2002, immigration policy in the US has gone through a period of rapid securitization, especially toward migrants coming from Latin America. Border detainments have steadily increased over all throughout the years, though the Covid-19 pandemic has temporarily slowed things. The Biden administration has vowed to reverse Trump-era anti-immigrant rhetoric.
Mexico
The Northern Triangle
Nicaragua
Organized Crime Groups
The United Nations
Classification:
Humanitarian Crisis
Adviser's suggestions:
The Biden Administration must  revoke Title 42 as it constitutes a  violation to the United States'  international legal obligations under the Refugee Convention. By sending  asylum seekers back to life threatening dangers,  they fear persecution without an individualized hearing. Public health officials have  shown that the policy has little to  none risk mitigation benefits on the  spread of Covid-19. As Dr. Ron Waldman, president of Doctors of the  World, said, the Biden administration should not be embracing a xenophobic policy that is based on  political expediency, instead of science. Additionally, we encourage the U.S.  government to listen to Public health  officials by aligning with the CDC's  declaration in which immigration can  continue safely and COVID-19 risk can be contained by testing migrants upon arrival.
Furthermore, we urge the Biden  administration and the media to shift the public's opinion regarding the  migration crisis. Citizens must 

understand the dangers that asylum  seekers are facing. The dehumanised narrative on migrants and the Trump induced idea that "they are coming to take our jobs" needs to be repealed.

 
Similar Crises:
European Migrant Crisis
counter-terrorism
Although academics have agreed on a common definition for the word "terrorism," the term's heightened political and emotional connotations have prevented a general agreement on
Read More »
cost of living
Russia's continuous war in Ukraine is having a severe knock-on effect across the globe. As food, fuel, and energy prices rise faster than incomes, a
Read More »
China
The internet stitches itself into the daily lives of billions of people in numerous ways. It functions as a means of communication, a marketplace, entertainment
Read More »
Latest posts by The Organization for World Peace
(see all)