Somalia, Horn of Africa

The rise of the Islamic State in Iraq and Syria (ISIS) has complicated issues for jihadist groups operating throughout Somalia. Throughout 2015, ISIS sent communication to al-Shabaab, the leading jihadist group operating in Somalia with the capability of striking the neighbouring countries of Ethiopia, Kenya and Uganda, proposing to ally itself with the Caliphate. Unsurprisingly, the leader of al-Shabaab, Ahmed Umar Abu Ubaidah, rejected the offer, stating long-standing allegiance to al-Qaida, and threatened death for those who sought to defy the fatwa.  However, in October 2015, a small faction, under the leadership of Abduqadir Mumin, broke off from al-Shabaab's ranks and pledged allegiance to then-ISIS leader, Abu Bakr al-Baghdadi. Henceforth, the group was known as the Islamic State in Somalia (ISS). At the time of inception, ISS had 20 fighters, including its leader. Mumin kept ISS' operational basis in the Golis Mountains, Puntland regional state, in northeast Somalia.   
Since becoming a fully-fledged group, ISS has three main objectives: 1) extend its reach outside the Golis Mountains, 2) obtain new sources of revenue, 3) counter Al-Shabaab's presence in its sphere of influence. Following the footsteps of al-Shabaab, ISS manoeuvred through clan politics to get recruits. The leader appealed to his clan, as well as those clans and sub-clans that felt marginalised by Puntland local government and the federal government. So far, between 300-400 have pledged allegiance to ISS, though recruitment beyond the Golis Mountains has been unsuccessful. In Puntland, the group has seized sparsely populated towns, but their short-lived successes came crumbling down following confrontations with the Puntland security forces.  
As a means for revenue to pay its fighters and to buy ready-made bombs or materials to make homemade bombs, ISS extorts businesses, threatening violence and often assassinations when business do not pay 'taxes' to the group. The group claims to have conducted 81 assassinations between February 2017 and July 2018 successfully, but local sources and the U.N. Monitoring group could not verify most of the claims. However, with limited resources, the group is incapable of conducting sophisticated attacks such as those undertaken by al-Shabaab. 
The Puntland Security Forces (PSF) have been tasked with destroying ISS in Puntland regional state. The PSF conducts military operations in the Golis Mountains and within cities in Puntland state like Garowe and Bosasso where ISS has conducted attacks. Additionally, the PSF carry out sensitisation operations on the population where they talk to the locals, especially those in the Golis Mountains, to urge the community to work alongside the government to eradicate both ISS and al-Shabaab from the area. The Puntland police have also been making headway against ISS with raids on their warehouses and hideouts. In those operations, they have managed to recover IEDs and other weapons, as well as arrest ISS members and sympathisers. The military courts have convicted many of the ISS members, most of whom were sentenced to death by firing squad. 
To support the Federal Government of Somalia (FGS), the United States Africa Command (AFRICOM) carry out airstrikes targeting both Islamic State in Somalia and al-Shabaab, whom both operate on the Golis mountains. Though most of the airstrikes have killed foot soldiers, the deputy head of ISS, Abdulhakim Dhuqub was also killed. The combined efforts by PSF and AFRICOM has significantly limited ISS activities mainly in Puntland, as well as their inability to attract recruits. Currently, there is a periodic conflict between ISS and al-Shabaab, with al-Shabaab's military wing – Amniyat, being utilised to kill ISS members and sympathisers. 
To make matters worse for ISS, clashes between the group and al-Shabaab are reported by locals. Since only a small section of al-Shabaab defected to join ISS, both groups are still operating in close proximity to each other in the Golis Mountains in Puntland regional state. Al-Shabaab has utilised its intelligence wing, Amniyat, to kill off ISS members and sympathisers.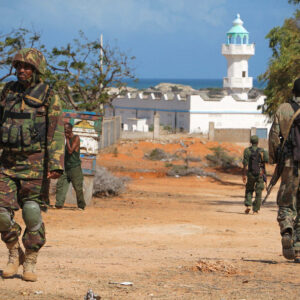 Government and military

ISS Targets
Where: Northeast Somalia
Active base: The Golis Mountains, Puntland regional state. There are independent clandestine chapters of ISS operating in Southern Somalia, but not much is known
Founded: End of 2015
Goal: The general goal of ISS is to create an Islamic Caliphate in Somalia.
Type of attacks: Close quarter assassinations and improvised explosive device (IEDs)
Fighters: Currently, it is estimated that the group has between 300 and 400-foot-soldiers. The number of foreign fighters, if any, is unknown.
People killed:  Estimated 30 people* – mostly government and military officials; The group claims the number of people killed is much higher
Islamic State in Somalia (ISS)
The Islamic State in Somalia (ISS) is one of the Islamic State in Iraq and Syria (ISIS) affiliates. ISS, led by Abdul Qadir Mumin, splintered from al-Shabaab in October 2015 to become an independent jihadist group. The group has appealed to al-Qaida affiliates throughout the world and those marginalised in Somalia using social media. Four years after its founding, ISS is struggling to expand its influence outside the Golis mountains and the nearest villages. Currently, it is estimated that ISS has between 300 and 400 fighters. The statistics do not factor the deaths of members following airstrikes and those who have been arrested by the Puntland Security Forces. In addition to their inability to expand its reach, the group struggles to find a steady source of income. Similar to al-Shabaab, ISS extorts businesses in Garowe and Bosasso in Puntland state and Mogadishu. Unlike al-Shabaab, the group has not managed to create checkpoints on the road which taxes vehicles and passengers that use the facility. Without the human resource and finances, the Islamic State in Somalia is only capable of doing close-quarter assassinations and plant improvised explosive devices on the road targeting government and military officials. Members of the business community have been assassinated, mostly because they refused to pay 'taxes' to the extremist group.
Abdul Qadir Mumin
Puntland Security Forces
United Nations
Classification: Terrorism 
Adviser's suggestions:
The Islamic State in Somalia poses a limited threat in Somalia.  The group has continued to attack government forces and Al-Shabaab militants in the Puntland region. Their limited attacks in the country can be attributed to multiple factors such as 1) planning for more significant attack(s), 2) consolidation of resources and 3) weakened capability. We will be watching the infighting between the two factions and the Emir's health to see where the ISS is going.
Al Shabaab
The continued humanitarian abuse and absence of adequate governance have transformed Somalia into a deeply dysfunctional state in the present day. With ongoing acute food
Read More »
This month the Somali government named its new Prime Minister Mohamed Hussein Roble, after the previous, Hassan Ali Khaire, was voted out of Parliament. Khaire
Read More »
Postcolonial Somalia is stuck in a conflict trap. Between 1988 and 2008, it experienced three civil wars, and in 2017, a fourth civil war started.
Read More »
Latest posts by The Organization for World Peace
(see all)